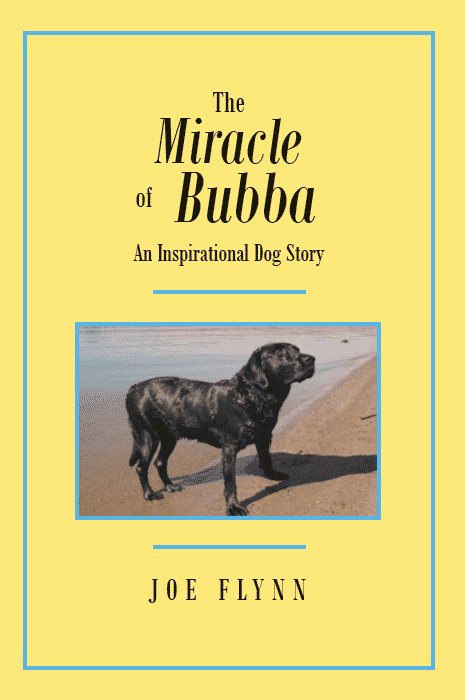 An Impossible Situation Can Become A Possible Miracle; Bozeman Author Pens book about Miraculous Black Lab Pup, 'Bubba'
BOZEMAN, MT- Local community member, Joe Flynn, knew he wanted to share the story of his beloved black Labrador retriever Bubba who was fully paralyzed in a unique accident but he wasn't sure where to start.
Flynn said his journey started when he began talking with other dog owners and veterinarians who had dogs with special needs and unique health issues but information about the condition was limited.
After a brainstorming session with his family, input from neighbors who witnessed Bubba's accident and daily special needs, he penned his first "Bubba" series book. This book is a story of a gifted and athletic dog, Bubba the Black Lab, who experiences a unique stroke-like accident called 'Canine Fibrocartilage Embolism (FCE). The stroke leaves this beautiful 110lb dog fully paralyzed at age four (4).
With less than a 1% chance of survival, this story will make you wonder what you would do if this were your loyal companion. Bubba was greeting his owner when this accident occurred. He was scared, immobile and counting on his owner. The story will grab your heart as Flynn navigates his options with his beloved Bubba. Beyond sharing this story, Joe hopes to raise awareness and inspire other pet owners to sometimes look outside the box, when their pets incur serious physical ailments, such as FCE and others issues that can emerge, especially in large-breed dogs where recovery is much rarer.
Bozeman's Country Bookshelf will host Joe Flynn and 'The Miracle of Bubba' for an Author Talk and book signing event and reception on Saturday, July 27th from 4 – 5p.m. Enjoy refreshments and popular M Donut Factory donuts, hear from the author himself and celebrate the success of one of Bozeman's local community members. This family-friendly story is heartwarming summer read and you can get your purchased copy signed by the local author.
Joe Flynn, resides in Belgrade, MT. He is a former US Marine, avid outdoorsman and lifelong dog lover. Many know Joe from his years of coaching and umpiring baseball here in Bozeman. He also referees basketball locally around the Gallatin Valley and statewide. This event is free and open to the public. Snacks and refreshments will be served. Please visit Country Bookshelf for more information: https:/ /www.countrybookshelf.com/event/author-talk-joe-flynn